Why?Exhibit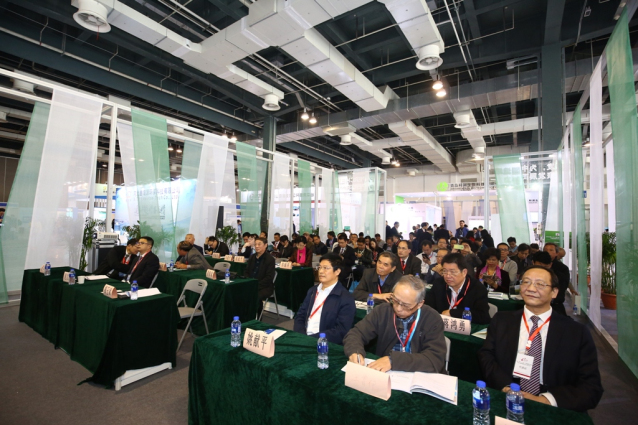 In recent years, China's paper industry has made remarkable achievements. China has become one of the largest producers and consumption markets of paper and cardboard in the world. Along with the expansion of the production capacity, technical level of China's paper mills has been improved significantly. With large-scale high-speed paper mills put into operation, the demand for high-quality paper chemicals is increasing sharply. The development and application of new types of paper chemicals are urgently needed.
2019 (14th) China International Exhibition on Paper Chemicals, Technologies and Equipments that organized by China National Chemical Information Center will be held on 18-20nd September, 2019 in Shanghai New International Expo Center.
As an only professional chemicals oriented event in the paper chemicals related exhibition field, PAPER CHEM+TECH had been successfully organized 13 times and it is the 14th edition in 2019. PAPER CHEM+TECH is not only a platform for the companies to have product promotion, technical exchange, foreign cooperation, trade negotiations but also a direction indicator and a barometer for companies in paper chemicals industry. including the international chemical giant Kemira,Harima,Arakawa,Daikin,S&B Bentonite,SNF,Novozymes, Dow and domestic leading enterprises Dalian Bio-chem,Jiangsu Feymer, Dongying Nuoer Chemical ,Anhui Tianrun, and Anhui Jucheng.
Paper chemical industry is upstream industry of paper making industry, is one of the important functional materials in paper making industry. The usage of Paper making chemicals is essential to improve the paper machine production, increase paper making industry product varieties and product quality, it is also significant to reduce the pollution of the production and improve the economic benefit. PAPER CHEM+TECH is an great event for the participants to have comprehensive understanding of purchasing chemicals and learning related technologies, it also a one-stop shopping for all the companies in the paper industry. The exhibits are all kinds of pulp and paper products present features of high efficiency, energy saving and environmental protection. The well-known enterprises at home and abroad attract the attention of visitors by its unique booth design and also the latest technology seminars.
Customer Benefit Guarantee and Efficient Audience Invitation
1. Media Intensive Publicity
Newspaper: China Chemical Industry News, Information Morning, China Petroleum Daily and China Petrochemical News; websites: China Chemical Information Net, ChinaChemNet, Huicong Net, China International Chemical Industry Net, etc.; journal: China Chemical Reporter, Industrial Water Treatment, Fine Chemicals, China Pulp & Paper Industry, Paper and Paper Making, China Petroleum and Chemical Industry, Petrochemical Technology, China Chemical Reporter, Global Chemical Information, etc. Furthermore, press conference is intended to be held, when central and local media will attend.
2. Visiting Groups from Different Industries
Relevant governmental agencies, industry associations and technical associations will organize visiting groups to attend the exhibition. These organizations include China Yixing International Environmental Protection Zone; Shanghai Water Reclamation Trade Association; Shanghai Environment Protection Industry Association; Technical Associations of Paper Industry of Shanghai, Shandong, Zhejiang, Jiangsu, Jiangxi, Fujian, Henan; Chemical Industry Parks of Shanghai, Nanjing and Ningbo; Sinochem; PetroChina; Sinopec; Shanghai Huayi (Group) Company; Baosteel; Anshan Iron and Steel Group Corporation.
3. A Large Number of High-end Seminars and Technical Exchange Meetings
We will invite more enterprises engaged in sewage treatment and paper making to hold seminars like China Water Treatment Technology Seminar, annual meeting of CIESC Institute of Industrial Water Treatment, National Paper Chemicals Development and Paper Technologies Application Seminar, Water-soluble Polymer Seminar and International Seminar, Technical Seminar Regarding Urban Water Treatment Technology and Equipment Application, Exchange Meeting on Environment Protection Technology of Chemical Industry, where exhibitors will display and elaborate products to make customers understand their ability better. Relevant companies contain Veolia Water Solutions & Technologies China, Ashland, Wacker Chemie AG, Novozymes (China) Biotechnology Co., Ltd., Dow, etc.
4. Hundreds of Thousands of Invitations in the form of Visiting Tickets, E-mails and Short Messages
We send 150 000 visiting tickets to engineering companies, construction committees, bureau of water resources, urban construction departments, water corporations, municipal sewage departments, water supply companies, industries such as mining, coal washing, oil field, paper making, chemicals, sugar, spinning, daily chemicals, metallurgy, food, beverage, manufacture, electric power, swimming pool, industrial sewage, health care, pharmaceutical, aquaculture and processing. Benefiting from the sound database, we send nearly 200 000 e-mails and short messages interiorly and overseas.
5. One-to-one Invitations for Large Buyers
Shanghai – an international city – attracts many downstream buyers, users, overseas procurement centers and trading enterprises to participate in the exhibition. We make a VIP list, including 1 000 people from core buyers like governmental agencies, research institutes, sewage treatment plants, paper-making factories, engineering companies and dealers, who will be one-to-one invited by Large Buyers Telephone Call Center. These VIP participants will be treated specially, enjoying earlier BizMatching, transportation and accommodation services, VIP card, conference room and "green" channels.
6. Publicity in Overseas Exhibitions
We greatly promote own shows overseas and collect participants' information by taking the opportunities of organizing exhibitions regarding chemicals, paper making, water treatment, dyes, pharmaceuticals, etc. in other countries. We have attended ChemSpec India, INACHEM, KHIMIA, India Chem, TURKHEM, Dye+Chem Bangladesh, Dye+Chem India, Vietnam Paper, Arab Paper Exhibition, Brazil International Paper Making Exhibition, Italia Paper Exhibition, IPX India, Russia International Paper Making Exhibition, SMAGUA, Indowater, Weftec, Dubai International Swimming Pool Show, USA Swimming Pool Exhibition, etc.
7. Great Support from Overseas Media and Agencies
We have close relations with many media at home and abroad, which will help us to propagandize exhibitions and attract more professional participants. They include Japan Chemical Daily Co., Ltd., Chemical Market Research Inc, Thailand Chemical Management Association, ENP (France), Global Water Intelligence (England), LesPromInform (Russia), Brazil Paper Making Association, Chemical Market Research Inc (Korea), Chemical weekly (India), Everything About Water (India), ASIAN WATER (Malaysia), etc., bringing participants from more than 30 countries in Europe, America, Africa, Oceania and Asia with detailed but pointed reports. In addition, we established offices in countries such as India, Vietnam, Indonesia, Thailand and Turkey, and designate permanent personnel to promote the exhibition.